June is Men's Health Awareness Month, and we couldn't be more excited about sharing some insights. Unfortunately, mental health in men is often overlooked or ignored altogether. By educating people more about mental health issues in men, we can make a positive difference in how people view and discuss men's mental health.
At Bethany Medical, we offer counseling services for a wide range of mental health issues, and we also have providers who specialize in psychiatry ready to provide the services you may need.
The Stigma Surrounding Men's Mental Health
We cannot address men's mental health without addressing one of the most detrimental aspects of society that affects men: toxic masculinity. The history that our society has with the idea of masculinity is unrealistic and oftentimes unhealthy. Dr. Raymond Hobbs physician consultant at Blue Cross Blue Shield of Michigan states "When you're talking about toxic masculinity, it really comes down to the way males are brought up. The way we're taught to be strong and quiet."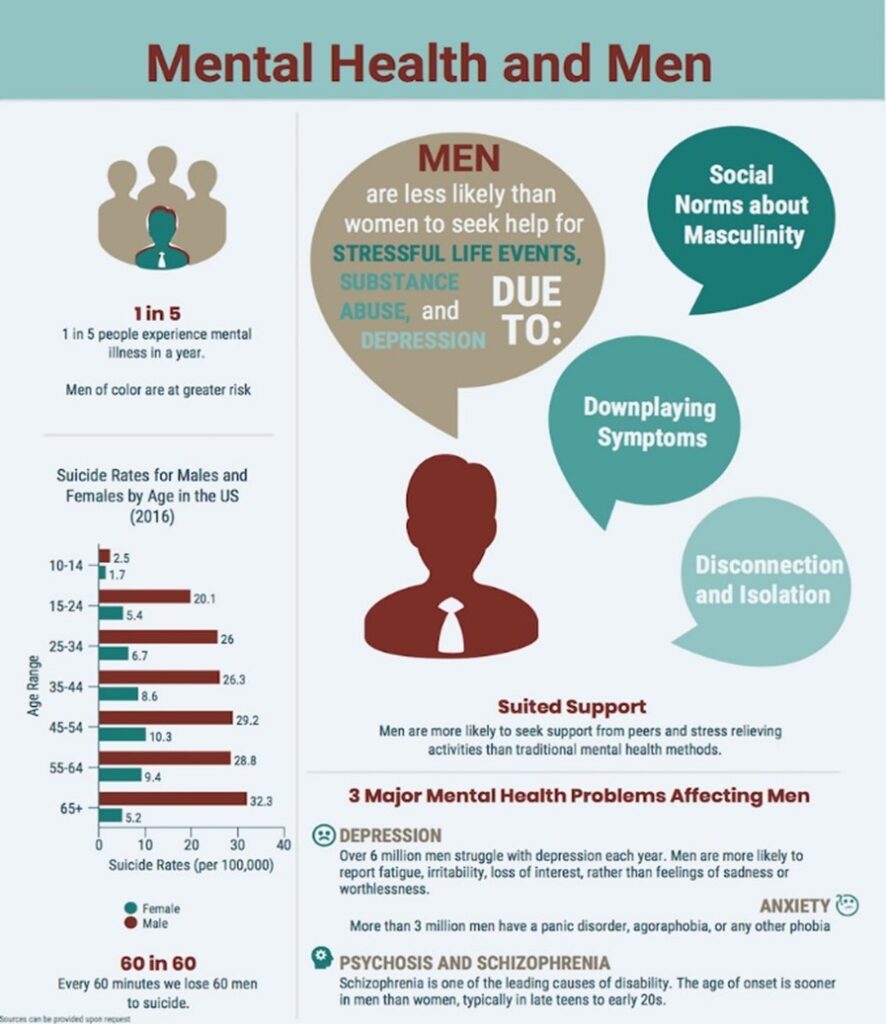 Studies continue to show us that a disturbingly large percentage of both men and women believe that mental illness is a sign of weakness. Although more research in recent years has let us understand mental health on a deeper level, the stigma about mental health still discourages men from reaching out. "We know so much more now, and we recognize the chemical changes that take place. In many ways, mental illness is just like diabetes, or any other physical condition," says Dr. Raymond Hobbs.
Men's Mental Health in Comparison to Women
Statistically, women receive more help for mental health and mental illness is more prevalent in women, but men are still more likely to attempt suicide. Men are also 2 to 3 times more likely to abuse drugs than women, and self-medicating to cope with mental illness is not uncommon at all. "The organization (NIMH) also note that self-medicating with alcohol and other substances is a common symptom of depression among men and that this can exacerbate mental health problems and increase the risk of developing other health conditions." The NIMH also revealed that more often than not, men will go see a doctor for the physical symptoms of mental illness, but not the emotional symptoms.
How Mental Health Affects Different Groups
Another aspect of mental health in males that we must recognize is that it affects different demographics of men differently. According to the former CEO of the American Psychological Association, black men and Latino men are 6 times more likely to be murdered than their white peers. American Indian men are most likely to commit suicide, and black men are most likely to be incarcerated. Statistics like this contribute to the extra barrier that men of color have to overcome when addressing mental health.
Professor Norman Bruce Anderson says, "add the stigmatization of help-seeking behavior by men of all races to the unique stressors faced by men and boys of color, and it's no wonder men and boys of color are at a higher risk for isolation and mental health problems. These challenges can manifest as substance abuse or acting out through violence and aggression – which can lead to more stigma and a continuation of the cycle."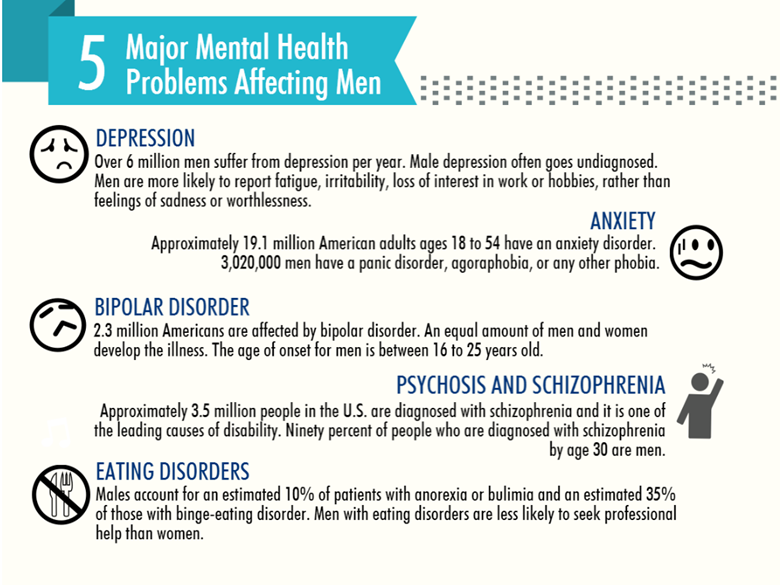 The bottom line is, because of the expectation that society places on men to be strong and masculine, most men do not feel comfortable seeking mental health assistance. The National Institute of Health says we must start "disrupting how men traditionally think about depression and suicide by breaking down the stigma that surrounds these topics." NIH also emphasizes the importance of teaching that seeking help isn't a sign of weakness.
We have the data to support that mental health is a physical condition, and one that men find it particularly difficult to open up about. Now, we must make the effort to help improve the stigma around mental health. This is the first step for our boys and men to get the help that they need and deserve. If you or someone that you love is struggling with their mental health, reach out to us at Bethany Medical. We have 15 locations throughout the Triad open 7 days a week for your convenience. Don't struggle alone-your health is our concern.