Sleep Medicine
Sleep is not a luxury but a necessity.  Sleep is a complex physiologic process necessary for optimal health, growth, and functioning.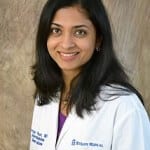 Sleep Center Director, Dr. Priya Paruchuri provides complete evaluation, diagnosis, and treatment of sleep disorders. Dr. Paruchuri is board-certified and fellowship-trained in Sleep Medicine.
Bethany Medical offers treatment for a full array of sleep problems, including:
Snoring
Narcolepsy
Sleep apnea
Insomnia
Sleep deprivation
Restless legs syndrome
Our AASM-Accredited Sleep Center is a clinical service available to assist physicians and patients in the diagnosis and treatment of sleep disorders. The center is a two-bed unit outfitted with state of the art recording equipment.
REQUEST APPOINTMENT
We now offer home sleep testing as well. Talk to your provider today to find out additional information.