LGBTQ History Month is a way to encourage schools, media, and other institutions devoted to sharing knowledge to amplify the important stories of the LGBTQ community.
LGBTQ History Month was created in 1994 by Rodney Wilson, a high school history teacher in Missouri. In 1995, the General Assembly of the National Education Association included LGBTQ History Month within a list of commemorative months. October was selected to coincide with National Coming Out Day (Oct. 11), which was already established, and the anniversary of the first march on Washington for gay and lesbian rights in 1979.
Studies show that a significant number of LGBTQ people experience discrimination in healthcare settings, which can discourage them from seeking care again.
Members of the LGBTQ community are more likely than their non-LGBTQ counterparts to experience their healthcare provider:
-Not believing they were telling the truth
-Suggest they were to blame for a health problem
-Assume something about them without asking
-Dismiss their concerns
Learn more at LGBT+ People's Health and Experiences Accessing Care – Report – 9761 | KFF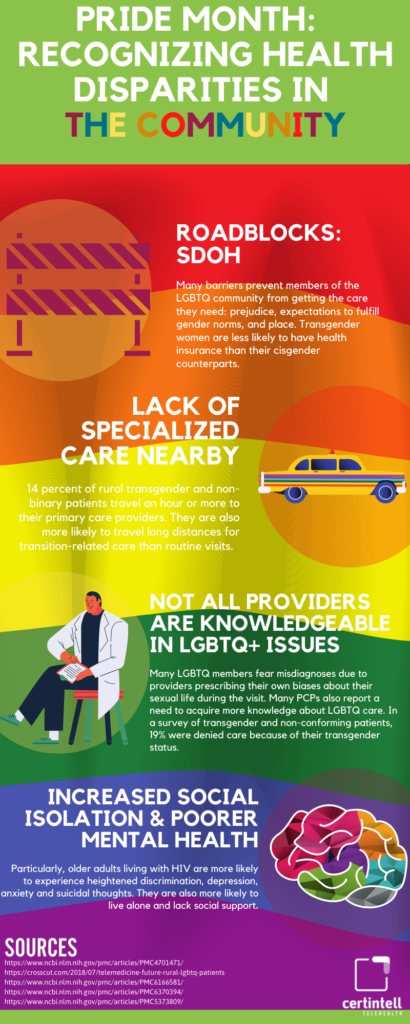 Since the purpose of this month is to recognize the significance of LGBTQ members, we thought we'd shed light on a few LGBTQ healthcare pioneers:
1. Sara Josephine Baker– American physician Dr. Baker is best known for the widespread attention she was able to draw to the U.S. infant mortality rates due to lack of sanitation. Her work in organizing the first child hygiene department led to the lowest infant death rate in any American or European city during the 1910s.
2. Dr. Bruce Voeller- Biologist and AIDS researcher Dr. Voeller helped the negative stigma surrounding AIDS by coining the term Acquired Immuno Deficiency Syndrome. He specialized in human sexuality and STDs and went on to found the National LGBTQ Task Force. He was inducted into the National LGBTQ Wall of Honor in 2019.
3. Florence Nightingale– Founder and philosopher of the modern-day nursing profession. Nightingale's theory revolutionized nursing practices to create sanitary conditions. Two years after her death, the International Committee of the Red Cross created the Florence Nightingale Medal, which is given to excellent nurses every two years. International Nurses Day is also celebrated in commemoration of Nightingale on her birthday.
4. Dr. John Ercel Fryer- Fryer's speech at the APA's annual conference in 1972 "described the lives of the many gay psychiatrists in the APA who had to hide their sexuality from their colleagues". Psychiatrist and gay rights activist Fryer was a key factor in the decision to de-list homosexuality as a mental illness.
5. Emily Blackwell- Blackwell was one of the first women in the US to earn a medical degree and practice surgery on a major scale. Dr. Blackwell helped organize the Women's Central Association of Relief-which was essential for aiding soldiers in the American Civil War.
6. Dr. Alan Hart- Dr. Hart was a tuberculosis researcher, radiologist, and physician. He was one of the first trans men to undergo hysterectomy and gonadectomy in the United States! Dr. Hart was instrumental in developing tuberculosis screening programs at the time when TB was the largest disease killer in the US. Dr. Hart's efforts with screening programs cut the TB death toll down to one-fifth of previous levels.
Bethany Medical is proud to open our doors to everyone regardless of sexual orientation, identity, or preference. Let's all remember to use this month to recognize the importance of celebrating diversity in our communities, and the healthcare community especially.
To schedule an appointment with a healthcare provider, click below
Schedule an appointment