Do you need to get tested for COVID-19?
If you are having symptoms such as:
Fever or chills
Cough
Shortness of breath
Fatigue
New loss of taste or smell
Sore throat
Congestion or runny nose
Nausea or vomiting
Diarrhea
Headache
Muscle or body aches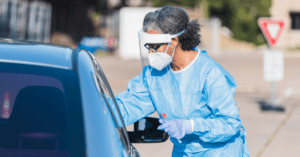 Or, if you have been exposed to someone with COVID-19 or the flu…
✔ Call 336-883-0029 to schedule an appointment for a Rapid COVID-19 Antigen & Influenza testing.
We also offer PAIN-FREE Saliva PCR testing when necessary. Please note – water should be avoided 10 minutes prior to your PCR test. Food, drinks, and nasal sprays should be avoided for half an hour before as well.
1. Arrive at one of our 12 testing locations.
2. Park in a designated COVID/Flu testing parking spot.
3. Dial the number on the parking sign for check-in and further instructions.
4. Receive your test results and treatments via telehealth or email.
Bethany Medical Covid-19 Testing in North Carolina
OPEN 7 DAYS A WEEK
View our 12 urgent care clinics below that provide both rapid and PCR testing for you and your family, ages 12 and up.
Rapid antigen results within 15 minutes.
Saliva PCR results within 24-48 hours.