Do you need to get tested?
If you are having symptoms such as:
Fever or chills
Cough
Shortness of breath
Fatigue
New loss of taste or smell
Sore throat
Congestion or runny nose
Nausea or vomiting
Diarrhea
Headache
Muscle or body aches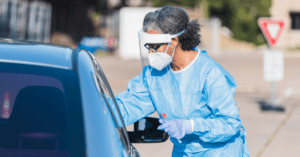 OR, if you think you have had exposure to COVID-19 or the flu.
Call 336-883-0029 to schedule a telehealth visit with a medical provider for a Rapid COVID-19 Antigen & Influenza testing. PCR testing is also available.
1. After your telehealth call, arrive at one of our testing sites below.
2. Park in a designated COVID/Flu testing parking spot.
3. Dial the number on the parking sign for check-in and further instructions.
4. Receive your test results and treatments via telehealth.
Covid-19 testing in North Carolina:
Find a COVID testing location near you. Open 7 days a week, 8:30am – 5:30pm.
3402 Battleground Avenue
Greensboro, NC 27262
5093 University Pkwy
Winston-Salem, NC 27106
3604 Peters Court
High Point, NC 27265
975 NC-66
Kernersville, NC 27284
Monday – Saturday Only
3801 W Market Street
Greensboro, NC 27407
Monday – Friday Only