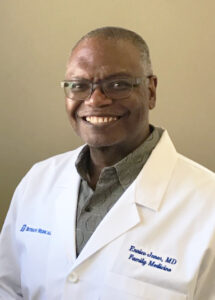 For those who want to obtain permanent resident status in the United States, an immigration medical exam is required. Dr. Enrico Jones provides all Immigration physicals for Bethany Medical patients. Below are frequently asked questions and detailed information for those seeking an immigration physical.
Immigration Physical Exam Requirements:
COVID-19 Vaccination – bring your documentation to your appointment!
Detailed Medical History
Physical Exam and Mental Status Evaluation by a designated Civil Surgeon
Test for Syphilis and Gonorrhea (required for 15 years and older)
Test for Tuberculosis (required for 2 years and older)
Verification of USCIS required immunizations
What Do I Need to Bring to My Exam?
NEW! COVID-19 vaccination documentation
A valid government-issued photo ID (passport, driver's license, etc.)
A current I-693 form (you may complete the patient section only, and DO NOT SIGN)
All vaccine records
What happens during the exam?
Dr. Jones will review your medical and vaccine history with you and perform a general medical exam
We will collect urine and blood to test for Tuberculosis, Syphilis and Gonorrhea
We will administer any required vaccines (if needed)
What happens after the exam?
Dr. Jones will order the required blood and urine test (results are complete in 5-7 business days)
You will receive a call from the clinic to come in to review the test results. If a test is abnormal, further testing and/or treatment may be performed and you will be notified of that during the phone call.
If all test results are normal, Dr. Jones and the patient will review the results, sign the I-693 forms, makes a copy and seal the original in an envelope marked DO NOT OPEN.
If there is an abnormal test, we will make every effort to have any additional required test or treatment completed during the follow-up visit. Then, Dr. Jones and the patient will sign the I-693 forms, makes a copy and seal the original in an envelope marked DO NOT OPEN.
Immigration Medical Exam
An immigration medical exam, or immigration physical, is a special type of exam that can only be performed by a physician designated by USCIS. These types of immigration doctors are known as "civil surgeons" and are the only physicians qualified to conduct the exam. The civil surgeon is required to test for conditions listed by USCIS.  Bethany Medical performs the I-693 medical exam for those seeking to adjust their resident status. Dr. Jones is a civil surgeon designated by The United States Custom and Immigration Service (USCIS).

PRACTICE INFORMATION
Bethany Medical at Guilford College Road
410 College Road
Greensboro, NC 27410
PHONE: 336.218.0994
Monday to Friday 8 AM – 6 PM
If you'd like to make an appointment or you have questions or concerns about the immigration exam, call our office today at (336) 218-0994!