The Bethany Medical Foundation (BMF) was founded in mid-late 2019. It was formed through partnership with Bethany Medical and the previous Cornerstone Health Care Foundation (CHCF).
The mission of BMF is to:
Encourage youth in the region to pursue careers in health care

 

Facilitate programs that benefit the health and welfare of area elementary, middle and high school students
Facilitate funding for health care needs of medically underserved populations
Develop and/or promote healthy living efforts to ensure a healthier community
The Foundation, the administrative staff and employees of Bethany Medical eagerly anticipate new and beneficial endeavors as we enter 2020!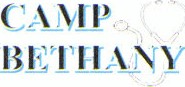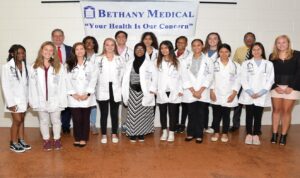 ABOUT CAMP BETHANY SUMMER PROGRAM
Camp Bethany is an outreach program sponsored by the Bethany Medical Foundation and NWAHEC. One of the Foundation's mission is to encourage area youth to pursue careers in health care. 
Program Guidelines: 
Students were recommended by their school guidance offices and interviewed by the Steering Committee for final selection.

 

High schools invited to participate in 2019 were: High Point Central, Davidson, Andrews, Southwest, Lexington, Ragsdale, Ledford, The Kearns Academy, Wheatmore, Thomasville High School and Trinity. This did NOT preclude other students attending different High Schools from consideration.

 

Recommended students were rising juniors who had a strong interest in a medical career with aptitude and motivation to become physicians or other healthcare providers,
 but may not have the necessary resources to help them reach that goal. 
Selected students attended five (5) days of camp, which was held June 24 – June 28, 2019.

                                                                                                                             

Hours were from 9:00 am – 4:00 pm daily. Lunch and snacks were provided each day.
Day 1 – Orientation consisting of HIPAA/OSHA, safety, volunteering, effective college application writing, behavior and effective communications.
 Days 2, 4 and ½ day 5 – Shadowing -Each student spent three days shadowing a Bethany Medical physician or other healthcare providers who volunteered to give the student an inside look at their day-to-day duties and responsibilities.
Day 3 – Camp field trip to WFBH/WS and WSSU simulation lab.
Day 5– Post camp orientation and graduation
Benefits/Outcomes: 
Students gained exposure to the real world of medicine and awareness of the academic, technical, and personal skills required in selected healthcare professions.

 

During the three-day shadowing experience, participants had the opportunity to get to know a provider and become familiar with his or her professional duties and environment.

 

Students were exposed to health care professionals who may serve as mentors and references for future endeavors.

 

Students were provided with information on the college admissions process to better equip them to submit competitive applications.

 

Participants emerged from the camp more focused, confident in their skills, future health-related careers, and with an enhanced awareness regarding their own talent and potential.

 

THERE WAS NO COST TO PARTICIPATING STUDENTS. THE BETHANY MEDICAL FOUNDATION IN PARTNERSHIP WITH NORTHWEST AHEC of WAKE FOREST SCHOOL of MEDICINE COVERED ALL EXPENSES; THEREBY ELIMINATING ANY FINANCIAL CONSIDERATIONS FOR THESE MOST WORTHY ASPIRING STUDENTS.

Stop the Bleed is a national awareness campaign and call-to-ac/on. Stop the Bleed is intended to cul/vate grassroots efforts that encourage bystanders to become trained, equipped, and empowered to help in a bleeding emergency before professional help arrives. The Bethany Medical Foundation provided training for all Guilford County high schools within the City of High Point. Upon comple/on of training, schools were awarded a wall-mounted "Stop the Bleed" kit. These kits were mounted at their respective schools in close proximity to their AED units.