Bethany Medical and its team of 65 multi-specialty providers are excited to announce a new in-house, SalivaNow PCR Confirmation Test for COVID-19. The Centers for Disease Controlrecognize the COVID-19 PCR test as the preferred and most definitive method for diagnosis of an active Sars-Cov2 virus infection. A negative PCR test is also a standard requirement for many universities, athletic programs, employers, and countries abroad that may have entrance restrictions.
Elise Peters Carey, President of Bethany Medical, stated, "We feel it is important for us to be able to provide our patients an accurate and comfortable alternative to the upper nasal swabs that so many of us have experienced or at least seen on TV. If you or your family members have been hesitant to get tested for COVID-19, we have made it easier than ever now. Together with our 10 convenient clinic locations, our 15-minute rapid COVID-19 antigen screening test, and now our 24-48 hour SalivaNow COVID-19 confirmation test, we believe Bethany Medical has the premier COVID-19 Testing Program in the Triad."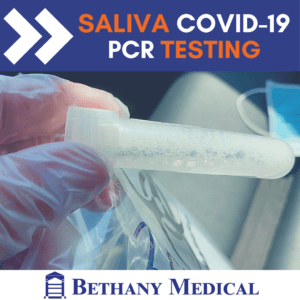 With the recent appearance of the virus mutations and variants, it is now more important than ever to get tested using the most accurate methods available to slow the community spread of COVID-19. The U.S. Food and Drug Administration recently updated its COVID-19 testing guidelines requiring test developers to assess test performance to confirm that the tests support the detection of all currently known mutations. Bethany Medical's new SalivaNow COVID-19 PCR test supports the detection of all currently known strains of the coronavirus including the highly publicized UK and South African variants.
Bethany Medical will also continue to offer its standard COVID-19 Antibody tests. These tests are ideal for patients who want to understand their immunity after a recent COVID-19 vaccination or a prior COVID-19 exposure.