The Lenny Peters Foundation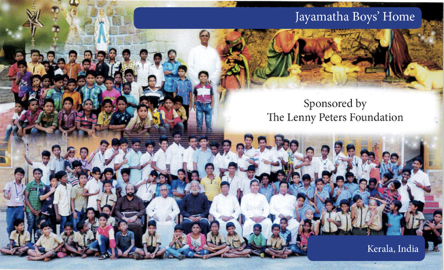 What We Do
The Lenny Peters Foundation is a non-profit 501 (c) (3) charity organization whose goal is to assist those in need around the world – and even closer to home – right here in North Carolina.  Dr. Lenny Peters, CEO of Bethany Medical, began the Lenny Peters Foundation out of a desire to "give back" in kind for what he has been blessed by God to achieve and accomplish in his life. One could, in fact, say that the history of the Foundation is Dr. Peters' own history: a provider born out of the necessity, and calling, to assist people in need.
Who We Help
The recipients of the Foundation's gifts are from various backgrounds with differing stories, but the need is all the same.  Dr. Peters began the mission of helping those in the Piedmont Triad community who need temporary, or one-time financial assistance while empowering and instilling confidence in them for their future.  
Not only does the Lenny Peters Foundation help here at home, but around the world, in Dr. Lenny Peters' hometown of Kerala, India.  Dr. Peters recognizes and remembers his humble origins and so, through the Foundation, the Jayamatha Boys Home in Kerala, India was founded.  The Jayamatha Boys Home is run by Franciscan Christian Missionaries who care for approximately 210 children in Nalanchira, the capital of Kerala. The LPF is leading the way in providing unbiased financial assistance to over 200 orphans there. This financial assistance provides housing, food, and education to each and every orphan. The Lenny Peters Foundation now provides housing, food, education, and job training to orphan girls in Kerala, India, as well. 
Who We Support
The Lenny Peters Foundation supports its local area non-profit organizations as well. We recognize there are many noteworthy charitable causes that are ongoing in our Piedmont Triad community. LPF has helped charity organizations such as:
Family Service of the Piedmont
Hospice of the Piedmont
Big Brothers Big Sisters of the Central Piedmont
United Way of Greater High Point
High Point Regional Health Foundation
Open Door Ministries
The Salvation Army
GTCC Foundation
Boys & Girls Clubs of Greater High Point
High Point Arts Council
High Point Historical Society
High Point Community Theatre
Theatre Art Galleries of High Point
Marine Corps League
Community Clinic of High Point
Make a Donation
 "No gift is too big or too small. All acts of kindness never go unnoticed." 
 If you'd like to make a donation, visit https://lennypetersfoundation.org/
You may also give your monetary donation via U.S. mail. The Lenny Peters Foundation address is:
Lenny Peters Foundation
507 Lindsay Street
High Point, NC 27262
The Lenny Peters Foundation extends our deepest gratitude for your support of our mission.