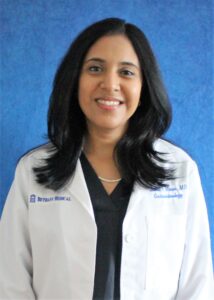 Radha V. Menon, MD
GASTROENTEROLOGY 
Medical School:
Doctorate of Medicine
Drexel University College of Medicine Philadelphia, PA 
CERTIFICATIONS
American Board of Internal Medicine
-Gastroenterology
-Internal Medicine 

Residency/Fellowship:
Drexel University College of Medicine
Philadelphia, PA – Internal Medicine 
Drexel University College of Medicine
Philadelphia, PA – Gastroenterology 
---
Please join us in welcoming Radha Menon, MD to our community of medical providers at Bethany Medical. 
She offers a full-range of Gastroenterology and Hepatology services and procedures with a special interest in women's health. 
GERD
Barrett's Esophagus
Colon Cancer Screening
Crohn's Disease
Ulcerative Colitis
Hemorrhoids
Irritable Bowel Syndrome
Fecal Incontinence
Hepatitis
Liver Disease/Cirrhosis
Dr. Menon is currently accepting new patients at all locations. 
PRACTICE INFORMATION
Bethany Medical at Skeet Club Road
1580 Skeet Club Rd.
High Point, NC 27265
DIRECT NUMBER 336.289.2285
Bethany Medical at Battleground
3402 Battleground Ave.
Greensboro, NC 27410
DIRECT NUMBER: 336.545.1515 
Bethany Medical at Lindsay Street
507 N. Lindsay Street
High Point, NC 27262
DIRECT NUMBER: 336.289.2282
OFFICE HOURS
Monday through Friday, 8am – 5pm
Weekend Appointments Available in Greensboro 
FAX 336.883.0867
Customer Service: [email protected]
Request an Appointment!