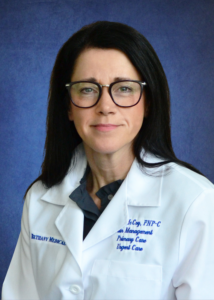 Rachel McCoy, MSN, FNP-C
WEIGHT LOSS
PAIN MANAGEMENT
PRIMARY CARE
URGENT CARE 
Education:

Bachelor of Science – Nursing University of North Carolina
at Wilmington Wilmington, NC 
Masters of Science in Nursing
Simmons College Boston, MA 
Memberships:
– American Nursing Association
– American Association of Nurse Practitioners 
CERTIFICATIONS
American Board of Nurse Practitioners (AANP)
---
Please join us in welcoming Rachel McCoy MSN FNP-C to our community of medical providers at Bethany Medical. 
Rachel will focus on a full spectrum of primary care and pain management services including: 
Comprehensive physicals
Management of chronic diseases
Urgent care
Chronic Pain
Fibromyalgia
Migraines
Joint Pain & Arthritis
Weight Loss

Suboxone Treatment

Methadone Alternative
Fun Facts:
Why did you go into healthcare / become a provider?
Answer:  I was drawn into healthcare because of my Grandmother.  She spent a great deal of her life being a nurse and caring for others.  Of course, I idolized her and wanted to follow in her footsteps.  Being in healthcare was all that I ever wanted to do and what I have done for the last 30 plus years.
Tell us one hobby you love to do outside of work.
Answer: Outside of being a nurse practitioner, one of my hobbies is exercise and fitness.  A huge portion of my time is spent in the gym or with a personal trainer trying to push and better myself physically.  I am very thankful my husband supports me and also joins me in this hobby.
What's a fun career fact about you?
Answer: A career fact about me, is that I spent a portion of my career as a flight nurse with MedCenter Air in Charlotte, NC.   I was required to transport patients on helicopters, fixed wing aircraft, and ground transport.  Needless to say, it was a very intense and exciting job and I learned a great deal.
She is currently accepting new patients at our West Market location. 
PRACTICE INFORMATION
Bethany Medical at West Market
3801 West Market Street
Greensboro, NC 27407
PHONE:  336.289.2287
Monday to Thursday 8:00am-6:00pm

FAX 336.883.0867
Customer Service: [email protected]