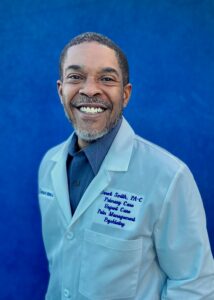 Ernest Smith PA-C 
BEHAVIORAL HEALTH
URGENT CARE
PRIMARY CARE
PAIN MANAGEMENT
Physician Assistant Program
Drexel University College of Nursing and Health Professions Philadelphia, PA
Bachelor of Science in Biology
Winston-Salem State University Winston-Salem, NC
Certifications:
National Certification of Physician Assistant (NCCPA)
American Registry for Diagnostic Medical Sonography (ARDMS)
Basic Life Support (BLS)
Please join us in welcoming Ernest Smith, PA-C to our community of medical providers at Bethany Medical.
Ernest offers a full range of Primary Care and Pain Management services including:
Comprehensive physicals
Hypertension
Diabetes
Urgent care
Chronic Pain
Suboxone Treatment
Fibromyalgia
Migraines
Joint Pain & Arthritis
Weight Loss
Behavioral Health Services

ADHD and Disruptive Behavior Disorders
Anxiety, Obsessive-Compulsive Spectrum,
Posttraumatic and Dissociative Disorders
Mood Disorders: Depression, Bipolar
Neurocognitive Disorders: Dementia
Psychotic Disorders: Schizophrenia
Sleep-Wake Disorders
Substance-Related Disorders: Suboxone Treatment
Sexual Dysfunctions
Tobacco-Related Disorders
Abuse and Neglect
He is currently accepting new patients, ages 18+ at our Jamestown location.
PRACTICE INFORMATION
Bethany Medical at Jamestown
108 West Main St, Suite E
Jamestown, NC 27282
DIRECT NUMBER: (336) 289-2295
OFFICE HOURS
Monday – Friday, 8 AM – 5 PM
Weekend appointments available
FAX 336.883.0867
Request an Appointment!