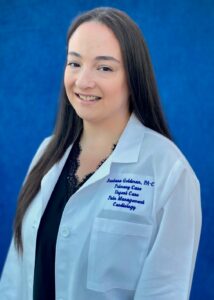 Barbara Goldman PA-C
CARDIOLOGY
PRIMARY CARE
URGENT CARE
PAIN MANAGEMENT
Physician Assistant Program 
Seton Hall University Nutley, NJ
Bachelor of Science in Environmental Science
Rutgers University Newark, NJ
Certifications:
American Academy of Physician Assistants
Advanced Cardiovascular Life Support (ACLS)
Basic Life Support (BLS)
Please join us in welcoming Barbara Goldman PA-C to our community of medical providers at Bethany Medical.
 Barbara offers a full range of Primary Care, Pain Management, and Cardiology services including:
Comprehensive physicals
Hypertension
Diabetes
Urgent care
Chronic Pain
Suboxone Treatment
Fibromyalgia
Migraines
Joint Pain & Arthritis
Women's Health
Congestive Heart Failure
Coronary Artery Disease
Chest Pain Evaluation
Cardiac Evaluation
She is currently accepting new patients, ages 18+ at our West Market location in Greensboro.
PRACTICE INFORMATION

Bethany Medical at West Market
3801 West Market Street
Greensboro, NC 27407
DIRECT NUMBER: (336) 289-2287
OFFICE HOURS
Monday – Friday, 8 AM – 6 PM
Weekend appointments available
FAX 336.883.0867
Request an Appointment!