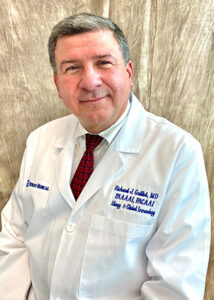 Richard J Guillot MD, FAAAAI, FACAAI
Allergy Services & Immunology
Medical School:
Louisiana State University School of Medicine
New Orleans, LA
CERTIFICATIONS
-Fellow – American College of Allergy
-Asthma and Immunology-Fellow
-American Academy of Allergy
-Asthma and Immunology
-American College of Physicians – Society of Internal Medicine
-American Medical Association

Residency:
Internal Medicine Residency
LSUMC Department of Medicine
LSU Affiliate Hospitals/Charity Hospital
New Orleans, LA
Allergy & Clinical Immunology
Section of Allergy and Clinical Immunology
Department of Medicine, LSUMC
New Orleans, LA
---
Please join us in welcoming Richard J Guillot MD to our community of medical providers at Bethany Medical.
Richard J Guillot MD focuses on a full spectrum of allergy services including:
Testing & Treatment of Environmental Allergies
Testing & Treatment of Food Allergies
Sting and Venom Treatments
Allergic Rhinitis'
Anaphylaxis
Sinusitis – Inflamed Sinuses
Allergic Conjunctivitis
Asthma & Allergic Conditions
He is currently accepting new patients at our Lindsay Street, Skeet Club, West Market, and University Pkwy locations.
PRACTICE INFORMATION
Bethany Medical at Lindsay Street
507 Lindsay Street
High Point, NC 27262
Direct Number:: (336) 289-2282
Bethany Medical at Skeet Club Road
1580 Skeet Club Rd
High Point, NC 27265
Direct Number:: (336) 289-2285
Bethany Medical at West Market
3801 West Market Street
Greensboro, NC 27407
Direct Number: (336) 289-2287
Bethany Medical at University Parkway
5093 University Parkway
Winston-Salem, NC 27106
Direct Number: (336) 289-2290
Monday – Friday, 8am – 5pm
Saturday appointments available
FAX 336.883.0867
Customer Service: customersvc@bethanymedicalcenter.com
Request an Appointment!