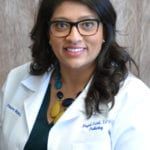 HIGH POINT, NC, March 20th – Bethany Medical (BMC) is proud to welcome Board Certified Podiatrist Dr. Kinjal Patel to its community of medical providers.  Podiatrist Dr. Patel will offer a full-range of podiatry services including cutting edge techniques and comprehensive state-of-the-art care in sports medicine, fracture management, diabetic footcare, foot and ankle arthritis, heel pain, & many more complex foot and ankle disorders.
Following a private practice career in Astoria, NY, Dr. Kinjal Patel is excited to provide her expertise to our triad community.  Born in North Carolina, Dr. Patel is a graduate of North Carolina State University where she received a Bachelor of Science degree in Biological Sciences with Honors as Magna Cum Laude.  She received her Doctor of Podiatric Medicine degree at The Ohio School of Podiatric Medicine. Dr. Patel then completed a podiatric surgical residency at Wyckoff Heights Medical Center in NYC.
Dr. Kinjal Patel has more than 10 years of clinical experience and is board certified by the American Board of Podiatric Medicine. Dr. Patel is fluent in English, Gujarati & Hindi.
She will be joining Bethany's Podiatry services at both High Point and Greensboro locations.  She is currently accepting new patients. For more information, OR to schedule an appointment, call 336-883-0029.