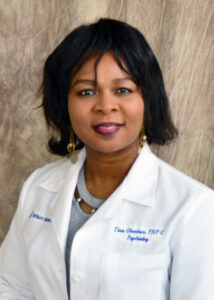 HIGH POINT, NC, April 4, 2019 – Bethany Medical is happy to welcome Board Certified Family Nurse Practitioner Tina Okonkwo, FNP-C to its community of medical providers. 
Tina Okonkwo, FNP-C will focus on a full spectrum of Psychiatry services including: ADHD and Disruptive Behavior Disorders, Anxiety, Obsessive-Compulsive Spectrum, Posttraumatic and Dissociative Disorders, Eating Disorders, Mood Disorders (Depression, Bipolar), Neurocognitive Disorders (Dementia), Personality Disorders, Psychotic Disorders (Schizophrenia), Sexual and Gender Identity Disorders, Sleep-Wake Disorders, Substance-Related Disorders (Suboxone Treatment), Sexual Dysfunctions, Tobacco-Related Disorders, and Abuse and Neglect. 
Tina earned her Bachelor of Science in Nursing from the University of Alabama in Huntsville, Alabama. She went on to receive her Master of Science in Nursing with Family Nurse Practitioner Concentration from South University in Savannah, Georgia. 
She is a member of the American Association of Nurse Practitioners, Sigma Theta Tau International Honor Society of Nursing, Beta Phi Chapter, and the American Nursing Association. She is certified through the American Board of Nurse Practitioners (AANP). Tina's past experience includes adult and geriatric behavioral health in both the hospital inpatient and outpatient settings. 
Tina Okonkwo, FNP-C will join Bethany's Winston and West Market locations. She is currently accepting new patients. For more information OR to schedule an appointment, call 336-883-0029.