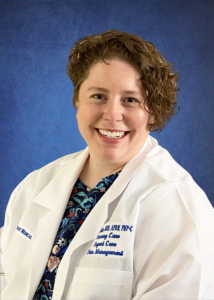 Meredith Cullop, MSN, APRN, FNP-C
PRIMARY CARE
URGENT CARE
PAIN MANAGEMENT
Education:
Bachelor of Science in Nursing
University of North Carolina at Chapel Hill
Chapel Hill, NC 
Masters of Science in Nursing
Duke University School of Nursing
Durham, NC 
Memberships:
-American Academy of Nurse Practitioners
–American Nurses Association 
CERTIFICATIONS
-American Academy of Nurse Practitioners (AANP)
---
Please join us in welcoming Meredith Cullop MSN APRN FNP-C to our community of medical providers at Bethany Medical.

Meredith focuses on a full spectrum of primary care for children and adults, including:
• Comprehensive Physicals
• Management of Chronic Diseases
• Urgent Care
• LGBTQIA Healthcare
• Allergies, Asthma, & Eczema
• Chronic Pain Management
• Suboxone Treatment
• Joint Pain & Arthritis
She is currently accepting new patients at our West Market location.
PRACTICE INFORMATION
Bethany Medical at West Market
3801 West Market Street, Suite 100
Greensboro, NC 27407
DIRECT NUMBER: 336.289.2287
OFFICE HOURS
Monday – Friday 8am – 6pm
Weekends Available at Battleground Location 
FAX 336.883.0867
Customer Service: [email protected]
Request an Appointment!