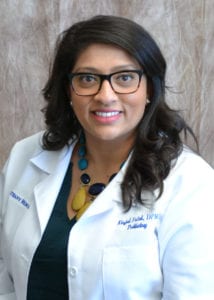 High Point, NC, May 25th—Bethany Medical, who has served the High Point community for more than 30 years, is now offering diabetic wound care under their podiatry services. Bethany Medical Podiatry specializes in the treatment of medical and surgical disorders of the foot and ankle.
Board Certified Podiatrist Dr. Kinjal Patel offers a full array of cutting-edge techniques and comprehensive state-of-the-art care in wound care including: diabetic wound care, diabetic foot wounds, lower leg wounds, vascular ulcers, diabetic foot and leg ulcers, sports medicine, fracture management, foot and ankle arthritis, heel pain, & many more complex foot and ankle disorders.
A North Carolina native, Dr. Patel graduated from North Carolina State University where she received her Bachelor's of Biological Sciences. She then received her Doctor of Podiatric Medicine at The Ohio School of Podiatric Medicine and completed a Podiatry Research and Surgery Fellowship at Wyckoff Heights Medical Center in Brooklyn, New York. Dr. Patel has more than 10 years of clinical experience and is board certified by the American Board of Podiatric Medicine. She is fluent in English, Gujarati, and Hindi.
Dr. Patel is currently accepting new patients at our Skeet Club location. If you or someone you know suffers from diabetic foot wounds or any other foot and ankle disorders, please call us today! Bethany Podiatry Services is open Monday – Friday from 8:00 am to 5:00 pm. Weekend appointments are also available!