Allergy and Immunology involve the management of disorders related to the immune system. The range of conditions can run a full spectrum of issues affecting different systems in the body.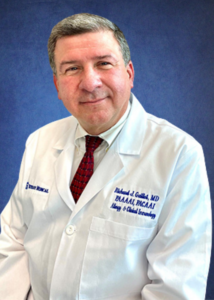 Allergist Dr. Richard Guillot (shown right) is Board-Certified in Allergy & Clinical Immunology and oversees all services!
Our program currently includes:
Allergies – respiratory, skin, food, drug, insect, latex
Rhinitis – seasonal, perennial, occupational, vasomotor
Immunotherapy – environmental, venom/stinging insects
Recurrent Respiratory Tract Infections as a possible presentation for Primary Immunodeficiency Diseases (PIDD) such as CVID and IgG deficiencies
Urticaria, Atopic Dermatitis / Eczema, Allergic Contact Dermatitis
Anaphylaxis
Allergic Asthma, with possible treatment with newest biological therapies
Patients of all ages are welcome for evaluation, including children as young as 1 year of age!